InkPlus CISS Printer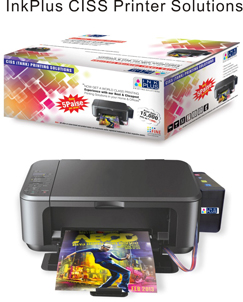 ISE Cards India Limited Presents Most Innovative and Economical System in the world of Printing. InkPlus CISS PRINTER, - Continuous Flow System !!, - Non Stop Printing Solution !!!, - Cheapest Printing Solution In The World !!!! .

An InkPlus CISS Printer/Continuous Ink System, also known as a continuous flow system (CFS), is a method for delivering a large and practically unlimited volume of liquid ink to a comparatively small inkjet print-head. To Know More...Click Here

InkPlus & CISS Printer
The InkPlus, leads as India's first computer printer consumable products (Ink & Toner Cartridges). InkPlus has started re-manufacrering and distributing via dealers / distributors & retail networks. The format is that of a one stop InkPlus Ink & Toner Cartridges dealers / distributors & retail networks that provides complete InkPlus Ink & Toner Cartridges and its Accessories , offering a wide range of InkPlus Cartridges which is campatible to HP, Samsung, Canon, Epson, Lexmark Etc., etc all under one roof..
With the emergence of a global economy, it is more important than ever to recognize our similarities as well as our differences. Throughout the world customers are seeking solutions that provide top quality products at competitive prices delivered in a timely cost effective manner. Today our staff operates InkPlus dealers / distributors networks throughout the country and looking distributors from all over the world. Future plans will bring customer and product even closer together! As we continue to expand our efforts in the world market, we eagerly look forward to enlarging our family of customers.
The InkPlus is sourced throughout the world to find the best quality and value. Each new Ink & Toner Cartridges must undergo an extensive technical tests and quality control checks before being added to our product line.
Our Vision

To remain a market leader in world cheapest colour printing and related solutions.

Our Mision
Our mission is to provide CISS Printer, Toner and Ink Cartridges, and Accessories and related all printing solutions that are complete, secure, efficient, cost effective and of highest quality. We believe in doing business the right way .
We are constantly expanding our services to providing solutions to more sophisticated CISS Technogy and personalization needs that are built on the latest state of art technology.
---