ID Card Printers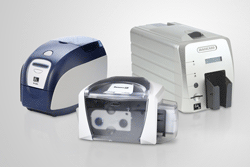 Offering easy-to-use digital technology, our high-quality photo ID card printer systems and badge printers are user-friendly. Our turn-key ID card systems contain the ID card software, card printer and badge supplies needed to create professional looking ID badges for your organization. Perfect ID card software can be found with versions of Card Five, ID Flow or Asure Software . Be assured that our digital card printers from HiTi, Fargo, Evolis, Smart and Zebra are the best in the industry. HID Prox cards can maximize the capabilities of a standard id card.
Our service bureau is also available for those looking for outsourced Photo ID Badges. Whatever your industry, Safe-Card can design cards that will meet your requirements.

Committed to Quality and Service
Our goal is providing you with top quality security badging equipment and supplies at the right price--with exceptional customer service and support. With security issues a global concern, we are proud to provide products that reinforce the protective measures so vital to creating safer environments in our public spaces.
---